All About 30 Days of Prayer
The purpose of 30 Days is to call Christians to pray with love and respect for Muslims around the world. In doing so, we hope to see:
+ Christians gain a better understanding about Muslim people, their faith and their various, diverse cultures.
+ An increase in efforts to respond with love and compassion to the needs of Muslims around the world.
+ A greater interest in Jesus among Muslim peoples.
We do this by hosting an annual prayer event coinciding with Ramadan each year, and creating prayer guide that enable Christians to pray regularly.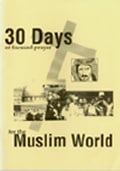 How Did the 30 Days Movement Get Started?
The origin of this call to prayer and fasting for the Muslim world came about as a group of Christian leaders were praying about the Islamic world during a meeting in the Middle East in April 1992. God emphasized to them a call to encourage as many Christians as possible to see the Muslim people of the world through His eyes and pray for the Muslim world.
How Many People or Countries Are Involved?
The 30 Days of Prayer for the Muslim World prayer guide is produced in many languages each Ramadan and distributed from regional or national offices around the world. Millions of Christians have joined together in prayer, across denominations, languages and cultures to pray for the Muslim world since we began.
Why Ramadan?
This prayer event is planned to coincide with the Islamic month of Ramadan because it is a time when Muslims themselves are praying. Ramadan is a great way for Christians to remember to pray. When Christians hear in the media that Ramadan is coming, it reminds them to pray.
We have seen that Christians take their own prayer more seriously as they see their Muslim neighbors fasting and active during Ramadan. Spiritually, Christians can relate to Muslims in our shared practice of fasting and praying – and breaking the fast together is a great opportunity to get to know one another better!
How Do You Create The Prayer Guide?
Each year people from all over the world work together to provide new information, statistics, stories and photographs for the 30 Days Muslim World Prayer Guide. Most of those who contribute are living and serving in mostly Muslim communities. Each person contributes a unique insight into the needs of the Muslim people they live and work among. They are certainly not scholars who have a distant understanding of Islam, but rather a group of people who have a passionate love for those they serve.
The 30 Days team then puts together the text, graphics and layout and that is then released to the national teams to translate and print and distribute how ever they can.
What Is The Purpose of the Prayer Guide?
The purpose of this prayer guide is simply to motivate and inspire the reader to pray. Each article of the prayer guide contains enough content to provide a brief overview and up-to-date information about a specific people group or issue. We strongly encourage our readers to seek further information in addition to this prayer guide. There are many excellent resources available, some of which are listed on our Recommended Reading page.
Do You Have Stories About What God Does During Ramadan?
Yes! We have many many testimonies, especially from our national offices. Often we hear of Muslims having had dreams of Jesus during Ramadan right after we have prayed for that country or people group. And, we often hear how local workers are encouraged during this time as we pray together.
Another wonderful testimony is that many Christian people contact us saying how their hearts have been changed positively towards Muslims. Sometimes that leads to folk supporting efforts to bless Muslim people, others reach out to befriend their Muslim neighbors, still others commit to more prayer.
(Each year in our Prayer Guide we print some special testimonies we receive.) But yes, a huge yes, that is one reason we keep doing this, the testimonies we receive encourage us that God is using this and answering the prayers of many. (See also the Testimonies section of our web-site.)
What do Muslims think about the 30 Days of Prayer?
Over the years we have heard that many Muslims have come to respect the purpose of the 30 Days. Both Christians and Muslims pursue God in prayer and we can agree that prayer is important. Muslims appreciate the love and respect Christians have for them, and it is our goal to be honoring and respectful in our prayers for Muslims and their unique needs and challenges.
How Can People Take Action?
Our passion is to know God and to make Him known. Our focus is on praying for Muslim people groups. Our work is creating resources for Christians to pray.
Although 30 Days International is not a sending organization (we just create prayer resources), all of us behind this work are actively involved in the mission to share the message of Jesus somewhere in the world. As missionaries, we encourage you to pray and give. But also consider going!
Will you pray? Will you promote the 30 Days event? Will you change the world God's way?
Welcome to 30 Days. Loving Muslims Through Prayer.