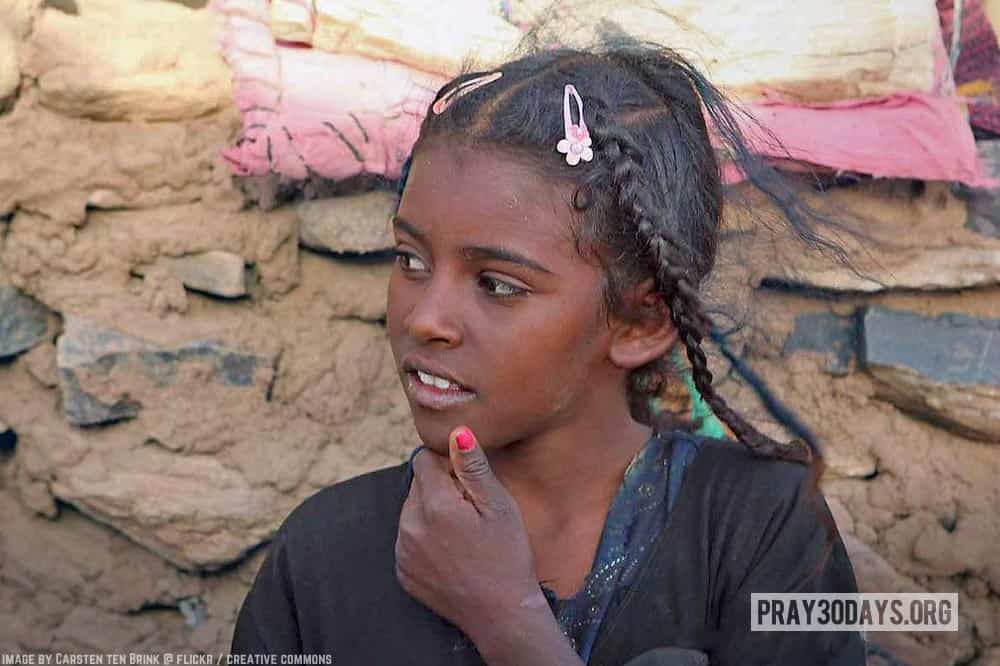 18 June 2017 / Day 23
The Beja of Sudan
Amna, wearing a bright blue robe, wrapped around her body and head and with a gold ring through her nose, sits and looks at the burning coals as she roasts the coffee beans, the repeated shaking a soothing rhythm to her emotions.
Amna is 21 years old and lives in Daim al Arab, the poor Beja area of Port Sudan on the Red Sea coast. There are about 3 million Beja people living along a swathe of land from Southern Egypt to the western lowland of Eritrea. She grew up as part of a nomadic group, wandering in the tough dry lands around the Red Sea Hills.
Amna was circumcised at the age of 5, a painful traumatic experience which time has numbed but not healed. She is now married with a son, Mohammed.
Her husband, Hassan, had to flee from Sudan – political unrest has led to the harassment and displacement of the Beja people. He faced further threats in Egypt and escaped in a dangerous journey to Europe where he is housed in a bleak asylum centre. Amna speaks to him occasionally on the phone but he is depressed and has no money to send her.
Seeking spiritual comfort, Amna follows a mixture of folk Islam, with jinns and evil spirits her constant companions. She longs for the nomadic life of old, and for meaning in her life but she cannot find the peace she longs for. She sips the strong, sweet coffee and looks out on the dusty street. A tear rolls down her dark brown cheek and she wipes it gently with her wrap. Who will help me and who will rescue me, she ponders. Her son plays in the dirt of her shack. A new day has begun.
How to Pray

Access to the Beja people is difficult and the system of folk Islam which they practice holds them in fear. Pray for believers in Egypt, Sudan and Eritrea to reach out to these people with the good news of Jesus and with practical help.
Pray for the completion of a Bible for these people. The language was unwritten until 20 years ago but much of Scripture has now been translated.
Pray for more opportunities to serve and support the Beja, who can be found among refugee groups all over the world.