Girl's Education in South Asia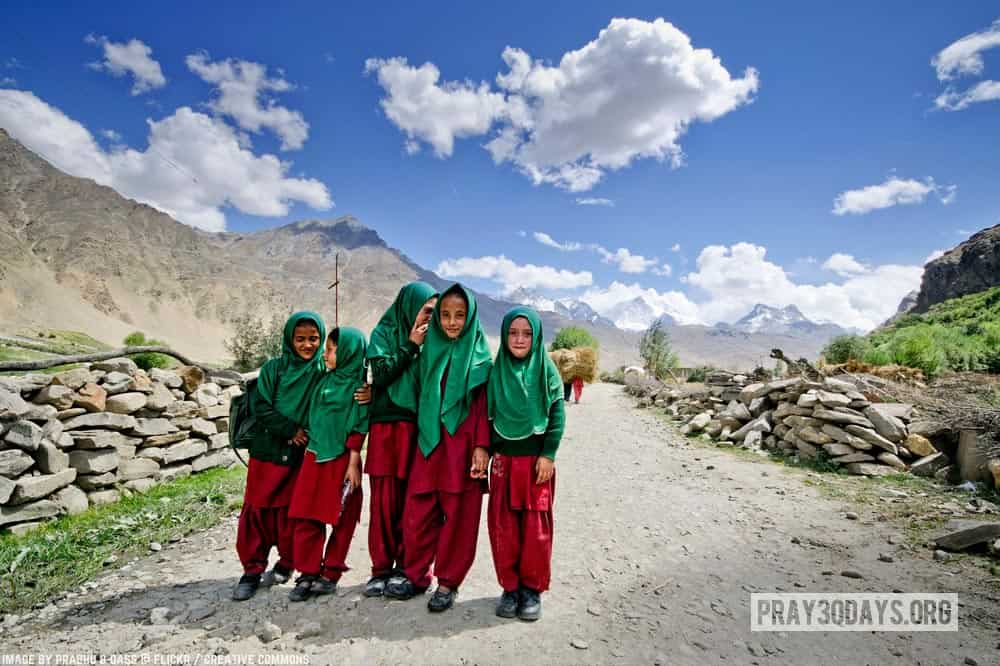 15 June 2017 / Day 20
Pray for Girls in South Asia
We were on our way to a distant, remote village at the "rooftop of the world" for a celebration. The community we were traveling to is part of a large group of nomadic people that spread across India & Pakistan. This conservative Sunni group is illiterate and impoverished, but they desire more for their children.
Several years ago, our team met with religious leaders here to evaluate the needs of the village.  Together, we started to educate boys by providing curriculum, uniforms, furniture, teachers' salaries, and tents to use as classrooms in the high pastures in summer.  Later, we were overjoyed when the village elders asked about educating their girls!  This was the desire God had put on our hearts and now here we were on our way to inaugurate the first girls' school!
Village elders, a few government leaders, many men and children were gathered to hear speeches and to honour guests.  Our team brought books, uniforms and materials for 15 girls who would be going to school.  To our surprise, we found out there were 70 girls to be enrolled—not just 15! Amazingly, as news had spread about the offer for girls to go to school, many more families were open to educating their daughters which was something that had never been done before in the history of their village!
This was truly a celebration!  A local father said, "I always feel happy when I see books and pencils in the hands of my children. I used to cry at not being able to help my children. I have six daughters and three sons. Today they are all going to school!"  Imagine what else God has in store for these families!
How to Pray

Pray for cooperation between village leaders and local organizations like this one who work to provide much needed services for families in South Asia.
Girls' schools are often threatened and attacked in this region. Pray for peace and safety for all so that girls can also have opportunities for a better future.
Pray for translation work to continue and for hearts to be eager to receive God's Word when these families read scripture for the first time in their own language.