DAY 12 – JUNE 17TH, 2016
The Persian Room – Haik Hovsepian
With nearly 100 million inhabitants, the Persian World encompasses all of modern-day Iran and spills over into neighboring Iraq, Afghanistan and Tajikistan. Unlike the Sunni Muslims elsewhere in the House of Islam, most Muslims in Iran are Shi'ites.
Despite the formation of the Islamic Republic in 1979, millions of Iranians have rejected the Islamic theocracy that has caused such devastation in their nation and hundreds of thousands of people have turned to Christ.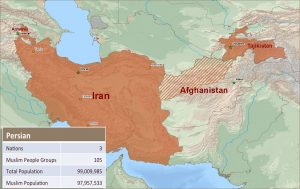 Thousands of them have faced arrest or persecution and many have fled the country.  Those who remain worship secretly and pay the price of their witness.  Witnesses, such as Iranian-Armenian Christian Haik Hovsepian.
Haik Hovsepian became the first national bishop of the Assemblies of God church in Iran in 1980. As an ethnic Armenian Christian Haik was allowed to practice his faith but not share it with Muslims.  However, Haik refused and one Muslim he led to faith in Jesu was the Rev. Mehdi Dibaj.
In 1983, Dibaj was arrested and imprisoned without trial and pressured to recant his faith. In 1993, in a secret tribunal, Dibaj was sentenced to death for converting from Islam.
When Bishop Haik learned about the sentence of execution he was faced with a choice. As an Armenian, Haik could remain silent and avoid persecution, or he could speak out. Haik refused to turn his back on his Muslim-background brother and went public with efforts to save Dibaj. His efforts proved effective and in response to international outcry, Dibaj was released on January 16, 1994.
Three days later, Bishop Haik was abducted, tortured and found dead in an unmarked grave. At Bishop Haik's funeral, Mehdi Dibaj spoke through his tears, "When Jesus died on the cross, only Barabbas knew that Jesus had died for him. When Bishop Haik died, I know that he died for me."
How to Pray
Pray for bold Christian witnesses like Haik Hovsepian to continue to take the gospel to the Persian World's Shiite Muslim population.
Pray for the nations in Persia to allow greater freedom in religion, allowing people to make up their own minds what they will believe.
Pray for Iraqi migrants and refugees who are rebuilding their lives in new places, for them to be blessed in their new lands and a blessing to those around them.