DAY 11 – JUNE 16TH, 2016
Turkey – A Crossroad for Refugees
Situated at the crossroads of Europe and Asia, Turkey has a complicated history with a significant role in both continents.  It has been thrust into the forefront of the European refugee crisis, with Syrian refugees fleeing from the destruction of their nation now numbering over 1.7 million.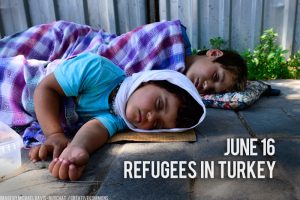 Turkey started receiving refugees from Syria at the start of the civil war over 5 years ago, expecting that the conflict would be quickly resolved.  As the war has stretched on this situation has created tension in Turkey with refugees caught in limbo – unable to return home, but unable to get work permits or settle permanently in Turkey.  Turks are increasingly concerned at rising rents caused by the increasing population and the risk of IS forces bringing their conflict into Turkey. The terrorist group is suspected of causing the October 2015 bombing in Ankara which killed 102 people and injured many others.
Turkey's position in the Syrian refugee crisis has led them into negotiations with the EU and UN Security Council regarding their long-term role in providing for the placement of refugees in Europe. The outcome of these negotiations will have a significant impact on both Turks and Syrians.  Both remain at a crossroads, wondering what the future will hold for those who are native to the country and those who have been forced to settle there.
How to Pray
Pray for tolerance and patience on the part of Turks who are offering refuge and hospitality to Syrian refugees.
Pray for peace in Turkey, and for the church in Turkey to lead by example in unity and love.
Pray for the refugees in Turkey who have been there for many years, longing for home. Though it may seem impossible, pray for peace in Syria. According to Psalm 46:9, "He makes wars cease to the ends of the earth. He breaks the bow and shatters the spear; he burns the shields with fire."