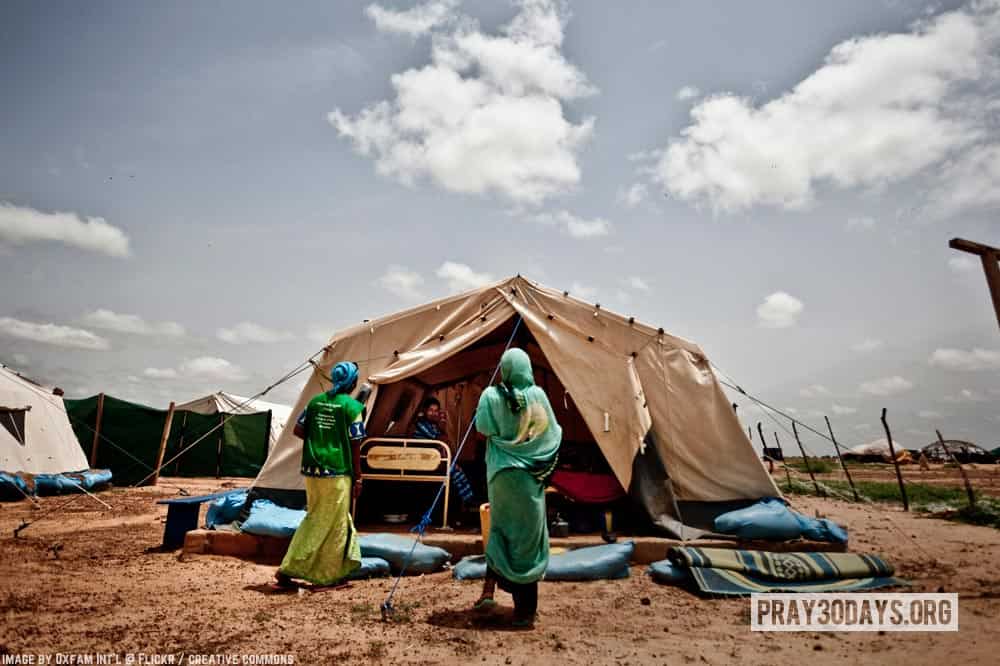 9 June 2017 / Day 14
A Syrian Refugee Family Waits
At a military-run refugee camp in Greece, we met a Kurdish family whose story reflects many others in the camp:
Father Aza worked as a taxi driver. Mother Gilya, cared for 12 year old Mohamed, 8 year old Hadidja and little Ibrahim who just turned 3. The family home in Aleppo, Syria was destroyed by a bomb during the war, causing them to decide to find a safer place to live somewhere in Europe – preferably Germany.
They marched across the Turkish border and found their way to Izmir and the Mediterranean Sea. There, Aza paid €5000 to people smugglers for a place on a rubber boat. They reached the Greek shore safely only to be stranded in the border village of Idomeni, just a few days after the borders had closed. After waiting in the border camp for 3 months, they were brought to the military camp to wait for registration and hopefully to be given refugee status.
In the camps, our family continues to live in a tent while waiting for better housing to become available. The food is basic and there is nothing to do, just wait. An NGO at the camp started a school for the children. Mohamed had only gone to school for two years before the war broke out. Hadidja never went to school and Ibrahim was born during the war and has known nothing else in his young life. Mohamed has picked up some English from the volunteers and sometimes acts as a translator for the rest of the family.
The family used most of their savings to escape from Syria and Aza is depressed because he cannot care for his family. Gilya tries to keep their family life going, sometimes borrowing a cooking plate to make additional food and keeping the tent, the clothes and the children clean. Despite all their experiences, however, our refugee family still love to have people come and visit them and at least to offer tea or coffee to them as they wait for their life to begin again.
How to Pray

For Christians to continue to advocate for and serve the needs of the refugees waiting in camps like this one in Greece.
For volunteers who speak the language of the refugees and can communicate with them on a deep level.
For refugee children like these to have opportunities for education and a normal childhood.
For the Good News to spread in these camps and communities as people struggle with harsh circumstances.