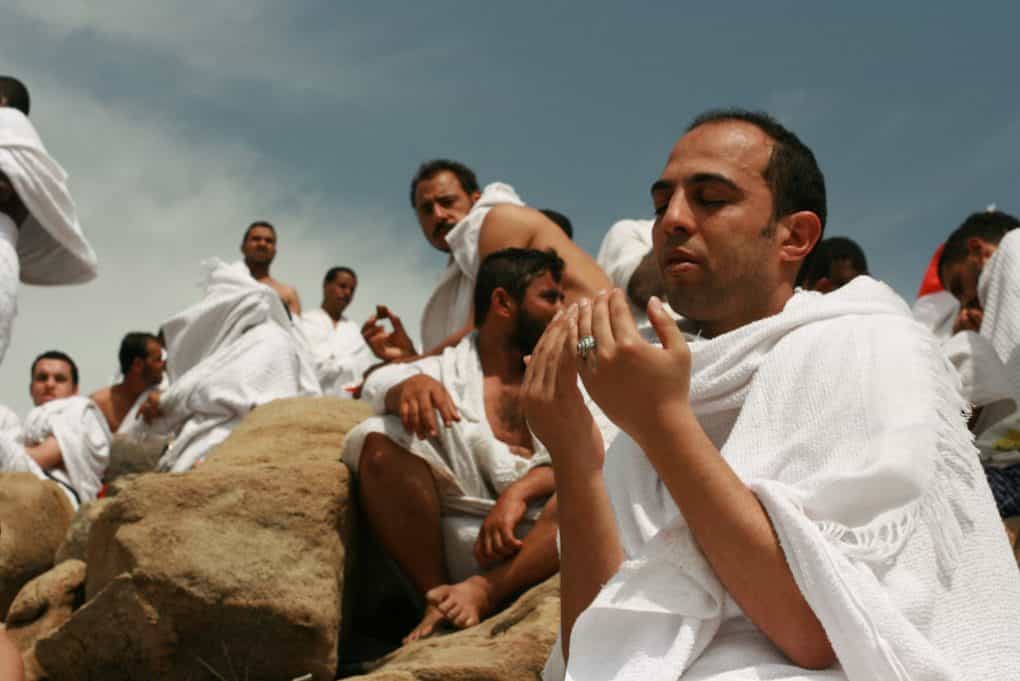 Prayer in Islam
Muslims often pray five times a day at specific times while facing the direction of Mecca. Muslim prayer is rather formal and ritualistic, like early Christian or Jewish prayer. Despite the formal nature of prayer, these times of prayer can often be very personal and meaningful. Muslim prayer is characterized by rules of respect and attitudes of politeness toward Allah*.
*Note: All Arab speakers use the word Allah for God – whether Christian or Muslim, despite differing beliefs.
"Praying correctly and at the appropriate time is one of the greatest indications of (Muslim) faith and a great sign of true religion". Prayer is to be done with heart and body cleanliness, with cleanness of clothing and in a ceremonially clean place. The washing of the hands, nose, face, forearms, ears, and feet in preparation for Muslim prayer is important.
The Language of Prayer
Muslims place very strong emphasis on the exact postures and the words of their prayers (which are always in Arabic). Almost all Muslim prayer is concerned with reciting specific phrases from memory. In the course of the five regular prayer times a Muslim will prostrate himself before Allah a total of 34 times and he will repeat the following phrases:
"Allah is greater"
"Praised be my mighty Lord"
"Allah hears the one who praises him"
He will also recite the "Al-Fatiha" or another text from the Qur'an 17 times, the "Shadada" (Islamic creed), and the greeting of peace to all Muslims.
Answered Prayers
Muslims can make requests to God privately after they finish their ritual prayers. However, this is not done as often as Christians typically make requests. Muslims do not believe that God binds himself to his people through covenants. This is a key concept for understanding their attitudes toward answers to prayer and their lack assurance of God's steadfast love towards them. In addition, because of the fatalism of Islam, Muslims generally have little faith that their requests will alter their circumstances. They generally believe that Allah's desires (for good or ill) will always be done despite their activities or requests. Trusting in God for specific responses to prayer in the Christian sense is not practised among Muslims. This is a huge difference between Muslim and Christian religious experience.
When Christians speak of prayer they mean direct two-way communication with God. Muslims never expect God to speak back to them directly at any moment and certainly not during prayer. The vast majority of Muslims will say that God only speaks through the Qur'an. Even Mohammed is said only to have heard from God indirectly through an angel. Christian prayer, on the other hand, is a combination of requests, thanksgiving and praise. The Bible says that we should "Enter His gates with thanksgiving and his courts with praise; give thanks to him and bless (praise) his name" (Psalm 100:4).
Prayer Ideas
Muslims need to come to know the Christ of Christian prayer. Pray that Muslims would come to believe that God Himself wants to communicate directly with them. Pray this specifically for any Muslims that you may know personally. Pray for the Muslims in your city, region and nation.
Pray for newly-converted Muslims, that they may develop real confidence in God as one who keeps His covenants, makes promises and who hears and answers prayer.
Christians need to share their prayer experience with Muslims in humility. Pray that God will give us wisdom when describing our Christian prayer experience so that God would be glorified and Muslims could understand Him better.