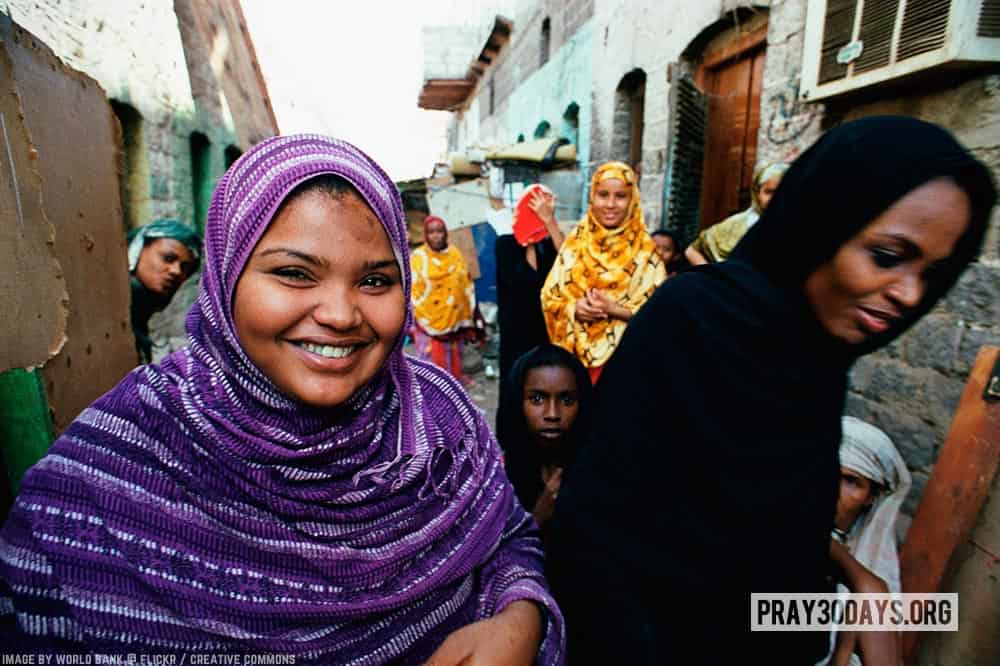 5 June 2017 / Day 10
Yemen – Where Tradition Prevails
There are only a few countries in the world who have a form of family as traditional as the one that still exists in Yemen.  Yemen is the poorest Arab nation with a distinctive tribal culture and a long Islamic history and their family culture is very conservative. The effect of this is seen most clearly in the customs surrounding marriage.
Most marriages are arranged, the bride and groom know very little about each other before the wedding day. In rural areas women often marry at a very young age and a man is permitted to have up to four wives.  Male and female roles are allocated very strictly in both family and society, to the extent that even weddings are celebrated in two locations – one for the men, another for the women.
Even though this culture places burdens and pressure on the men, it is even more limiting for women, who often have very difficult lives. Very few women show their face in public and the overwhelming majority wear the black 'abaya' and cover their face in public. Many girls do not go to school and are unable to read or write.  Their destiny is to marry, raise children and take care of the house.  In the dry mountain villages of Yemen this means a lot of work including carrying full cans of water up a mountain several times a day.
Yemen is almost completely unreached by the Gospel. Only a very small underground church is existent. For local Christians, it is very challenging to be a witness and a light for Jesus in the tough environment of such a conservative Islamic context.
How to Pray

Pray for the nation of Yemen as it faces incredible political instability and many suffer from the impact of war, terrorism and poverty.
That Yemeni culture will awaken to understand the value of women, to protect them and give them opportunities to live joyful, abundant lives.
For the few Christians in Yemen to be encouraged in their faith and a be a witness and example in their families and communities so that many would know Jesus.